We Make you look, feel and smell foxy...Naturally!
Check Out Our Best Seller!
Why You Look Foxy products?
We are committed to providing products with wholesome, natural and whenever possible organic ingredients.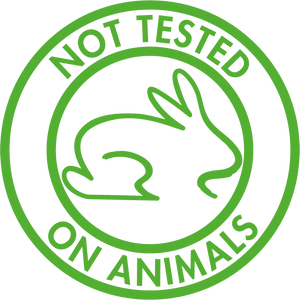 Tested on people, never animals.
No nasty aluminum zirconium, aluminum chlorohydrate, parabens, triclosan, or propylene glycol. 
Local
At You Look Foxy, every product, including the  labels, are made right here in beautiful Nova Scotia.
Natural
You Look Foxy's naturally scented hair, body and home products offer healthy alternatives to conventional brands.
Honesty
Best practices are important to our customers. We will always be transparent in our marketing because we know you wouldn't want it any other way.
Quality
Excellence in ingredients and small-batch production means maintaining quality and goodness in each product. It's what we're known for and what customers expect.
Naturally Scented With Top Quality Ingredients
We make natural, organic products for hair, body and home. Naturally scented with top quality ingredients, we offer great alternatives to conventional products and our products are all made locally in small batches.
We believe in honest marketing, making affordable natural organic products without losing quality.
The stages of detox
we make the transition over to a natural deodorant our body will go through various levels of odor-causing bacteria. The graph above shows us what is to be expected.
It is in week 2 and 3 that we can experience "breakthrough odor" as our sweat glands are detoxing from built-up toxins. Simply reapply as needed.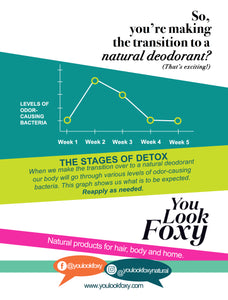 You Look Foxy Founder Evyeneia Dexter
Halifax felt like home the second I arrived almost 20 years ago to continue my career in the hairdressing industry. Prior to becoming a stylist, I was a photographer in Toronto in the age of film. 
Both the hair and photography industries deal with a multitude of chemicals so I've become quite knowledgeable about the importance of trying to maintain minimal exposure to toxins. That being said, the creativity and the people you connect with in both these industries is why I'm so passionate about what I do.
I love the wintergreen and lemon natural deodorant! Even after a heavy workout I am stink free 

Angie S
The Original Hair Paste is my go to product for my frizzy curls,  I love that it is natural and I can just rub it in to my hands after applying to my hair!

Carol B
Hand Repair has been a lifesaver for my hands. Covid with extra washing and sanitizing has taken a toll on my hands. This product moisturizes and rejuvenates them!

Brenda D.